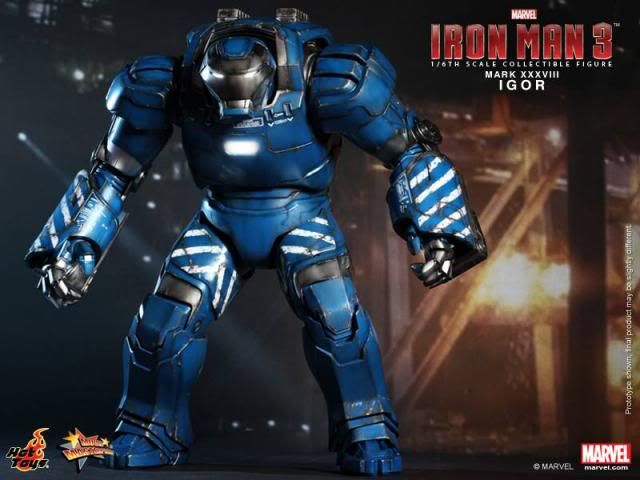 Hong Kong 2013 Toys Annual is still hot with Iron Man XXI Midas & Mark VII Battle Damage but seems like it doesn't stop Hot Toys to open another preorder for the latest Iron Man 3 suit, the bold and big buddy who made an explosive introduction on Iron Man 3 trailer, Iron Man Mark XXXVIII "Igor"!
Claimed to be more than 43cm height, this tall beast is the next big thing to be on top of your list. You can see the details as if its not made by plastic (I'm sure it is).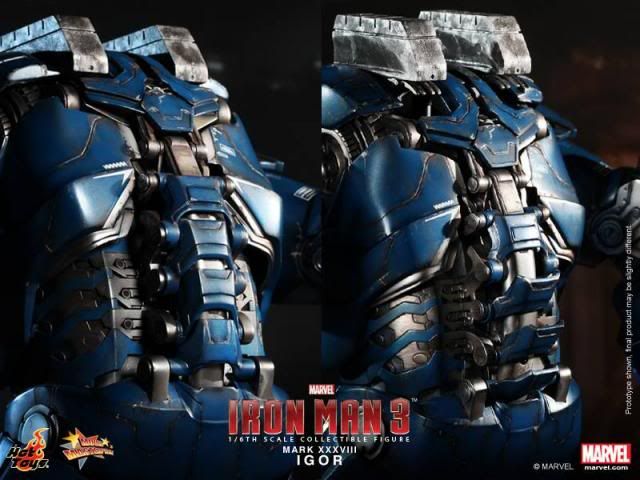 "Since the powerful entrance in Iron Man 3, the heavy lifting suit Igor from the "House Party Protocol" has gotten many fans' attention with its unique appearance and design. Fans had been anticipating for Hot Toys' official reveal of this amazing armor since the prototype has been shown at various toy fairs earlier this year.




Now Hot Toys is proud to present this outstanding armor – the 1/6th scale Igor (Mark XXXVIII) Collectible Figure. It stands approximately 43cm tall and features blue, silver and white colored painting with distress effect on armor and LED light-up functions,"
It will be up for preorder soon so do you guys here wish to preorder or you have anything to say? drop your comment below :)