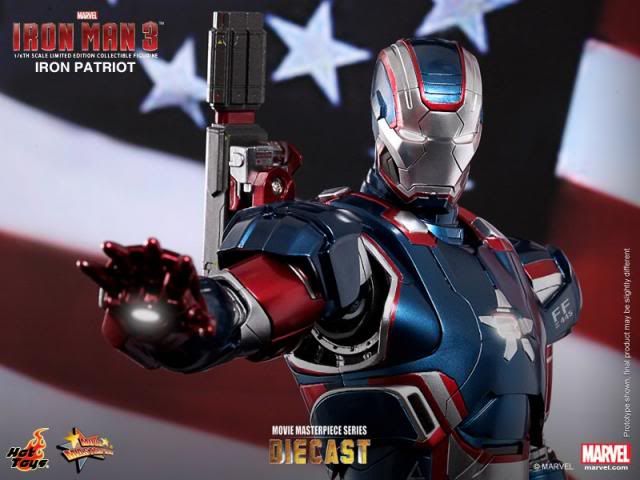 Yeah I admit & feel sorry for myself. With Iron Man 3 just around the corner I couldn't help myself to not digging more and more info about how will the film will looks like. Seems like not only I guess but as well as Hot Toys which just announced a new guy in Iron Man franchise, the Iron Patriot.
Happened to be the MMS with die cast finishing, I would say my personal favorite just getting better than ever. Might be as part of Hot Toys' initiative to annihilate few problems from their previous Iron Man collection (red turns to pink brief, unstable leg joint) they released this version of Iron Patriot.
Well, I hope with this new material it would not neglect the other factor, which is its articulation as it would be just a piece of doodle-doo if the articulation is limited.
For Malaysian Only, pre-order it for RM850 excluding the shipping price and RM150 deposit apply. PM me on my
FACEBOOK FANPAGE
or my
FACEBOOK
PEPPER POTT AS RESCUE?
There's a rumors I gathered that Tony's beloved girlfriend, Pepper Pott will be one of the Iron Legion as well as Happy, Tony's personal assistant & friend. The rumor said that in a scene Pepper Pott will
be injured on her chest and Tony will implants the same Arc Reactor as his on Pepper Pott's chest and later, she will have her own Iron Man suit to help Tony in certain situation. Will it be a real story? I can't wait to watch Iron Man 3 next month. ;)